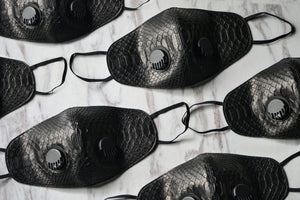 Full Snake Skin Valve Mask
The exterior of the mask is made with genuine python skin while the interior is made with sheep leather.Valve is installed for easier and filtered breathing.
Suitable for your workouts and long wearing hours.
Every purchase comes with filter.
Size S suitable for females,while Size M is suitable for males.
To enquire, contact us at
IG: Stoneforgold
FB: Stoneforgold
E: info@stoneforgold.com
​HP: +65 9023 5219 - Jeffrey